FILIPPINI Generating Sets - Gruppi Elettrogeni
Filippini Generating Sets progetta e produce gruppi elettrogeni per ogni campo di impiego, per industria, agricoltura, edilizia, telecomunicazioni, usi civili e militari e per noleggio. La gamma di produzione tra le più vaste e complete disponibili sul mercato e si estende da 2 ad oltre 2000KVA, offerta in un ampio ventaglio di opzioni standard e speciali, su telaio aperto e silenziate, con motori a scoppio e diesel a 1500 e 3000 giri/minuto forniti da prestigiosi produttori mondiali
Business profile
Since 1970, Filippini has been planning and producing Generating Sets for every field of application, from industry to agriculture, from construction to telecommunications, for civil, military purposes, as well as for rental. The line of production is one of the largest and most complete on the market, ranging from 2 to 2000 kVA and more, offered in standard and special options, on open frame or silenced with gasoline or diesel engines, rated at 3000 or 1500 r.p.m., suplied by world leading manufacturers.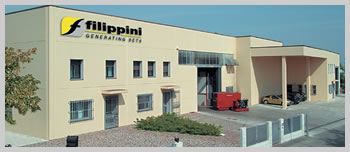 Quality, technology and innovation have always been the "leit-motiv" of a company that is more and more determined to confirm itself as one of leading manufacturers in this field. Special attention is devoted to the security and to the control system of the generating sets. Each generator, even the smallest one equipped with sockets, is supplied with differential circuit breaker, while the electric panels are large, accessible and easily readable to allow customers the utmost protection and simplify the generator's use.
Meaningful are the results obtained in the field of noise reduction, thanks to advanced, patented technical solutions which permit to manufacture supersilenced generating sets that boast to be environmentally friendly. Filippini generating sets are manufactured with first class materials and with extreme care to allow each generator the utmost performances and reliability. Filippini's technical know-how and experience enable to adopt innovative technical solutions and to manufacture generating sets in compliance with the most restrictive international regulations and the needs of the most qualified customers and professional installators. All generators are manufactured following the European safety regulation CE.
With a cooperate merger act dated 19.10.2009, Filippini Gruppi Elettrogeni was merged with WFM S.r.l., who already owned the total property. Filippini remains as an independent production division in its new factories of 4000 sq.m in Via Pasubio 18/20/22 – 42022 Boretto (RE).